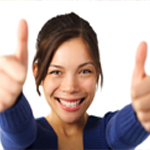 At YNB, customer service is our number one priority. We want all customers to walk away with a positive experience. We know that word of mouth is what builds the strongest reputation so we're happy to share some of our customers' stories with you. Here are a few things are customers have said about YNB.
If you have a story about your experience with YNB, we'd love for you to share it with us! You can share your story here.
While we hope every experience is a positive one, we know there may be times that we fall short of your expectations. If this happens, please let us know so we can take every step to resolve your issue. You can contact service@ynbok.com if you're having a problem we need to resolve. Thanks in advance for letting us know.