(Published in the Canadian County Democrat, El Reno, Oklahoma Thursday, October 20, 1932). Grove & Smith Publishers, 320 South Choctaw. Volume One, Number 52, Front Page.
State President Business and Professional League
NEARLY A SCORE OF YEARS ago a gentleman from New York invited a gentleman of Yukon to ride with him by automobile from Washington D.C. to Camden, N.J.
The occasion was the launching of the battleship Oklahoma.
During September, this year, the same New York gentleman invited the gentleman from Yukon to join him on another journey ­ a ride by train from Kansas City to Denver.
A great world war, collapse of empires, establishment of new governments, international economic and industrial upheavals have occurred during that interval of time but these two gentlemen have forged along successfully in their respective fields of endeavor. Today each stands at the forefront of his profession.
When Governor Roosevelt invited John F. Kroutil to the baptismal ceremonies at Camden, the former was Assistant Secretary of the Navy, t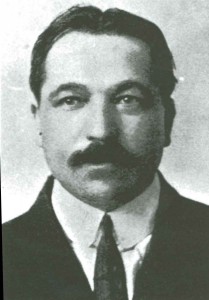 he latter an already successful flour miller.
When Governor Roosevelt invited John F. Kroutil to journey westward last month, the former was candidate chosen by the Democratic party for the office of president of the United States, the later had achieved the distinction of being the largest flour miller of the entire Southwest.
A study of the lives of both men reveals that their success has been achieved only after surmounting insuperable obstacles. Governor Roosevelt was the victim of a malignant germ that paralyzed his legs so completely that he was unable for years to move about without the aid of crutches.
He has overcome that handicap by sheer mental fortitude, winning a victory over a deadly disease at the same time twice winning election to the gubernatorial chair in New York.
And now, Governor Roosevelt stands out as the leader of the Democratic Party in the nation and very likely the next president of the United States.
Born in Czecho-Slovakia
Very few recall when John F. Kroutil first came from Nebraska to work in Canadian County.
However, many recall the numerous occasions when he was confronted with tremendous problems and obstacles that stood in the path of a successful business future.
There are none among them who entertain other than admiration and affection for the Yukon man who has done so much to make his community and this county a better place in which to live.
John Kroutil was born in Czecho-slovakia 58 years ago. He comes of a race of people who have had to fight for existence for centuries. An indomitable urge to succeed is inherent in his countrymen. Our land today is fortunate in having officials of Czecho-slovakian (unreadable) for extraction, for honesty and (unreadable) and loyalty to American initiative. Millions are notable among their ranks. An outstanding illustration is Anton Cermak, mayor of Chicago and compatriot and a personal friend of John Kroutil's for many years.
When able to work, young Kroutil found a job on a farm owned by E.L. Harrington, five miles east of El Reno. Harrington was rated as a wealthy man according to the standards of those days, who owned a tract of twenty quarter sections that extended almost to Yukon. Harrington had come down here from Beloit, Wisc. And besides owning property there and in Oklahoma, he possessed considerable acreage in California.
Kroutil's wage was $20 per month. Now he regards that experience beyond the measure of money for he learned from Harrington how to successfully work a farm. When he left Harrington, Kroutil bought a farm of his own next to that owned by James McGraw out of the savings of his small monthly stipend.
A childhood ambition to own a flour mill gradually developed to fruition. At the age of 20 Kroutil went to Ponca City, and a year later bought a farm just west of that place. He started in the grain business after advising with C.H. McClead, for years a conductor of the D.& R. G.W. McClead was associated with Andy Hunt and a Mr. Post of Arkansas City.
Kroutil's first venture was a contract with the Imboden Commission Company, then of Galveston. This concern had a fine export business and shipped grain to all foreign countries. Knowledge and experience gained through this connection, though then but in a meager way, the base upon which John Kroutil built up the largest export business in the Southwest.
Built a "Cracker Box."
His ambition to become a flour miller could no longer be restrained. Shortly after his 21st birthday he hied off to see C.D. Roberts, a Ponca City banker, with $243. "I am going to build an elevator," he told Roberts, as he deposited the cash. And he did. Recalling that incident, Mr. Kroutil will tell you with pride how he built a "cracker-box", as he calls it, and bought a horse, "which afterward went blind from going round and round. "I kept improving that 'cracker-box' until I had a pretty decent elevator", he said the other day while sitting among friends in an elaborate suite directly above that of Mayor Cermak's in the Congress Hotel, Chicago.
His was the first elevator built in Kay County. In a short while it was equipped with gasoline engines and the horse turned into the pasture for well-deserved retirement. The horse had been loyal to the young miller and reaped his reward. It is characteristic of Kroutil that loyal assistants never leave him without receiving pensions or other practical and appreciable expressions.
First Encounter With Fate.
John Kroutil married when he was 21. He established a fine home with a devoted wife and was soon the father of a young daughter, Bernice. He became respected for his sincerity and indomitable spirit of progressiveness, so much so, in fact, that he was elected to serve on the Town Board. He defeated the late Senator Bretz, a powerful political figure in those days, for the office by six votes. He served on the Board four years.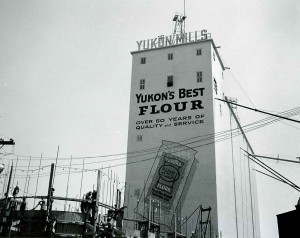 Then John Kroutil met his first serious problem. His earlier days had provided with all their hard work a great deal of fun and excitement. Now Kroutil could no longer exercise that independence that belongs only to youth. Mrs. Kroutil died, leaving him with a small child.
Realizing that the baby's existence depended upon proper maternal care and guidance, Kroutil sold his place at Ponca City and moved to Yukon that his baby could be cared for by his mother, who lived but three miles away. Bernice grew up under the fine inspiration of her grandmother.
About that time Ed Donahue's plant in Yukon burned, and Donahue went to Ponca City. Meanwhile Jerry Shields, with J.H. Murphy, who afterward became a state senator, rebuilt the Donahue plant and Kroutil came to Yukon to negotiate for the purchase of the property.
Details of the deal were perfected and Kroutil returned to Ponca City to draw sufficient cash to complete the sale. When he returned to Yukon he learned that the Gunther Milling Company had bought the plant by offering $500 more and delivering the cash on the spot.
Here was Kroutil's second experience with the most serious side of life. Undaunted, he set about to prove to the Shields, the Murphys and the Gunthers that he could be just as smart as they.
Competition the Spice of His Life
Although it was altogether serious in those days, Mr. Kroutil gets considerable amusement now as he recalls events that transpired. His own words furnish eloquent description:
"My brother Frank, who recently died, joined me in business in Ponca City. When he came face to face with unethical practices employed by the men who sold and bought the old Donahue plant, Frank and I bought lots immediately west of their place and started excavating for an elevator.
"No sooner did we start building than they erected a building on a site needed by us for tracks. As soon as they did that, we transferred our plans to four other lots where we believed they could not prevent the laying of tracks.
"But we were a little bit green in some ways and did not take into consideration the influence and power a little money will com…
"My financial estate amounted to $500 when I left Ponca City to buy the Donahue mill, but I had spent a good deal of it investing in lots. With what was practically my last one hundred dollars I boarded a train and started for the main office of the railroad company at Little Rock. I shall never forget the courtesy extended to me by the officials of the railroad. Despite this, however, I received no encouragement concerning the laying of tracks to my new location.
An Irishman In the Deal
"Finally, I met and won the admiration of John Harris, a fine Irishman who was the road's general superintendent. He came back with me to Yukon. All we had when Harris and I got back to Yukon was four lots, but he 'knew his onions' as they say today.
"He persuaded the road's officials to come to Yukon. Meanwhile, he urged us to rush construction of a building on our lots. When the officials arrived, our building was in process of erection. The officials then consented to run tracks to my place provided I would build a grading over the ravine. Of course, I agreed to do that, although at the time I didn't know how I was ever going to be able to do it. It took money in those days, although not quite as much as it does in these modern times.
"Well, sir, when the Gunther people heard that the road was going to build a siding for me, hell commenced apopping. There were three elevators and a mill in the town already, and here I was coming along with another one. It looked like an unsuccessful venture but you'll recall that my original purpose was not to start a new plant but to operate one which had already been in existence.
"The trick these folks had played on me sharpened my determination to own a mill in Yukon, and, of course, I now have the only one there. What happened to the others is history.
"With all the love and respect an Irishman has for the fellow who has been victimized, John Harris espoused my cause. It was through his energy and friendship that I was able to complete the grading and finally obtain track facilities." C.B. Hart was the general freight agent then for the Choctaw, Oklahoma & Gulf railroad. He notified me that I would be unable to obtain track facilities at my new location.
Attacks and Counter Attacks
Here again another serious event took place, but which amuses Mr. Kroutil as well as his listeners every time he recalls it.
"In order to build the grade, we had to go in front of the Gunther mill. They had me arrested for obstructing a public highway. I engaged a lawyer, filed the necessary bond and was released.
"When I returned to my property I found the Gunthers had carried all my fill away. I promptly had four of them arrested for interfering with my business and obstructing justice after my bond had been filed.
"It looked now as though I was to have the battle of my life on my own doorstep. But I had not reckoned with Harris. He knew that no one could prevent us from doing our work on Sunday, and Sunday was the following day. He sent out a call for laborers. They came from Shawnee and other distant points early Sunday morning. Beer flowed more freely than the water in the ravine below.
"With the Gunther outfit looking helplessly on, the grading was finished and in readiness by nightfall for the laying of tracks."
And then, with a satisfied sing, Mr. Kroutil then tells you that in less than two years the Gunthers sold out to him.
The tale of the rise of the Kroutils is rife with human anecdotes that become the basis of many of his speeches. When a young man in Ponca City, only a few months after he deposited $245 with the banker, Roberts, an incident occurred that becomes John Kroutil's them whenever he talks to young men.
For all his 58 years, John Kroutil is a younger man in spirit, ambition, determination and enthusiasm than many born a quarter of a century after him. He likes to be the center of groups of young folks and enjoy doing things that will encourage them.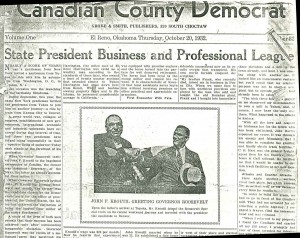 Note by the Editor – This is one of a series of articles that will be published in the coming issues. The next article will deal with Mr. Kroutil's experience with bankers and with the public as a banker in his own right. (To Be Continued)
This newspaper article was sent to me in March of 1995 by a relative of John F. Kroutil,  B.F. Barnett, who then lived in Anaheim, California.
Also, here is another story from the new Yukon Sun which was formed by Stan Griel and Anton Yanda III in 1991 which features an interview with Doc Yanda of Yanda & Son Funeral Home.